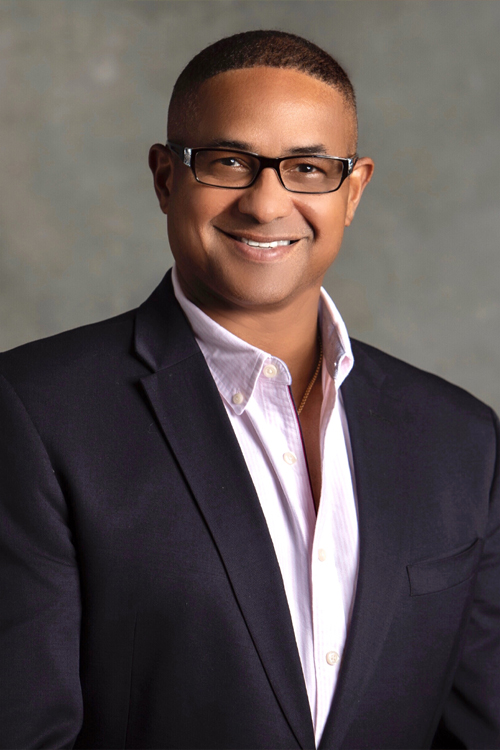 CMG Speaks presents Roberto Clemente Jr.
Philanthropist, CEO, Former Broadcaster & Professional Baseball Player
"There's only one thing that truly differentiates us all, and that's your fingerprint. No one in this entire world can match your fingerprint. And because of this you should always make sure to touch everything in a positive way."" - Roberto Clemente Jr.
About Roberto Clemente Jr.
Born in San Juan, Puerto Rico, the first seven years of Roberto Jr.'s life were spent between Puerto Rico and Pittsburgh, PA. After his father's untimely and tragic death in a 1972 plane crash while taking relief supplies to Nicaragua earthquake victims, Roberto Jr. became his father's voice and the spokesperson for the family. He has continued to carry on his father's legacy, including playing professional baseball for the Philadelphia Phillies, San Diego Padres and Baltimore Orioles. After a series of injuries, Roberto Jr. returned to Puerto Rico and established the RBI Baseball Program, aimed at enhancing interest and participation in sports, with a particular emphasis on disadvantaged children. Robert Jr. also established the Roberto Clemente Foundation, bringing the goodwill to the country and world by aiding at-risk youth, disaster relief, and promoting global service leadership. The foundation today is one of the most admired foundations in the country, both in and out of baseball— utilizing the humanitarian spirit that Roberto Clemente left for the world to follow. Throughout the last 30 years of the foundation's existence, Roberto Jr. and the team have helped thousands of children and their families. 
My Father's Legacy & My Own: An Afternoon with Roberto Clemente, Jr.
Roberto recalls the moment the flight bringing his father home from the 1971 World Series victory and voted MVP touched ground. There was a loud eruption of the 100,000 people waiting to rush the plane to welcome the man who at the pinnacle of his career, and he spoke to them in their native language on national television, galvanizing the global Latino community.
Sit tight for an unexpected account of the loss of his father and his innocence taken away two months later. Roberto shares the horrific events entangled in a story of powerful moments in life, such as meeting every president of the US since Jimmy Carter. The end of his father's life was the beginning of an amazing journey that will touch every hot topic in our current society.
Roberto's personal accounts bring light to the situations we are all talking about today. He brings a fresh voice to the conversation. He is bringing painful truths about his life and society with humility, empathy and understanding of the many different industries and communities he has been a part of. Roberto believes that he has been chosen to go through this spectacular journey and share it with the world to provide motivation and inspiration in every aspect of our lives
In his speaking engagements, Roberto Clemente Jr. has a vast array of topics of which he speaks on including his unique life as the eldest son of Roberto Clemente and his role in his family– from the impact of his father's untimely death and overcoming obstacles with race and inequality, overcoming the odds with grief and coping mechanisms, motivations in sports, business and Latino affairs, importance of education, humanitarianism, motivational topics with underprivileged children, Leaving a Legacy and beating the odds and many others.
I want to thank you for speaking at the 2013 Hancock Symposium at Westminster College. Your excellent lecture on 'Sport and Global Humanitarianism: Roberto Clemente and His Global Impact in Our Time' impressed our students, faculty, staff, and local community members. Your presentation was both timely and timeless. Thank you for encouraging us to think critically about the relationship between sports and humanitarianism in society. At Westminster College, we place a premium on interactive learning. I appreciate your willingness to engage our students and campus community in substantive conversations about the role of sports in American culture. I have no doubt that our students will see the world differently as a result of their interaction with you, and that is the purpose of a liberal arts education. You contributed directly to our mission of developing leaders in a global community.
Westminster College
Roberto Clemente, Jr captivated our audience with his courage, heart, and raw emotions sharing what it was like – in his words – 'growing up as a grieving child of a legendary sports icon.' He spent time with every child and guest that wanted to meet him exchanging memories about his dad and listening to each individual's personal story. Roberto did it with class and love, making it a memorable experience for all who met him. You can feel his passion for helping children, teens, and families find the support they need when going through their grief journeys. Roberto is a remarkable speaker sharing stories about his father, his experience as an athlete, and carrying on his parents' giving spirit – reminding us that we all have it within ourselves to make a difference in this world.
Erin's House for Grieving Children
Roberto Clemente Jr. has a natural ability to share his story and encourage others to embrace service as a way of life. In all of his roles, Mr. Clemente Jr. has lived a life of service by encouraging the youth of Puerto Rico, Pittsburgh and abroad to pursue service through sports. He continues to follow the example of his family in upholding the traditions of Catholic faith, and personifies the long-established mission of La Roche University to be a lifelong learner, to achieve success in a chosen career, and to promote justice and peace in a constantly changing global society. He delivered a positive address to the Class of 2018, urging them to never settle for less than being happy with what they do, regardless of the sacrifice it takes. He challenged the class to follow what he tries to accomplish each day. 'Leave your legacy, your fingerprint in Humanity's heart,' he told La Roche graduates. Mr. Clemente Jr. is an exemplary role model, and La Roche University was honored to have him speak to our graduating class and to award him an honorary degree.
LaRoche College